Book Recommendation: Blame It on the Brain?
by Paul Tautges | July 11, 2011 11:30 am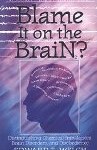 [1]Some comments were posted on the blog over the weekend concerning last week's depression posts. These reminded me of a great tool that is on my list of essential reading for biblical counselors." Blame It on the Brain?[2], written by Dr. Ed Welch, counselor at the Christian Counseling & Educational Foundation(CCEF[3]). Here's a couple insightful quotes that stand out to me. You need this book in your resource library.
"Further research may reveal differences in the future, but at this time, there is no such thing as a consistent, verifiable chemical imbalance or neuroanatomical abnormality among the psychiatric diagnoses.  Blood tests and brain scans are not even used in making a psychiatric diagnosis." (p. 106)
"Too often the church, having bought the myth that these are simply physical problems, shies away from offering normal biblical counsel to those who claim a psychiatric disorder.  The reason given is that these situations are too complex; they need the services of an expert who is trained in neurochemistry, neuroanatomy, and psychopharmacology.  Yet the church is sitting on resources that can revolutionize treatment of these problems." (p. 107)
Endnotes:
[Image]: https://counselingoneanother.com/wp-content/uploads/2011/07/Blame-on-Brain2.jpg
Blame It on the Brain?: http://www.amazon.com/Blame-Brain-Distinguishing-Imbalances-Disobedience/dp/0875526020/ref=sr_1_4?s=books&ie=UTF8&qid=1310336760&sr=1-4
CCEF: http://www.ccef.org
Source URL: https://counselingoneanother.com/2011/07/11/book-recommendation-blame-it-on-the-brain/
---