Reviews of 'Brass Heavens'
by Paul Tautges | March 12, 2013 8:38 am
The Lord has been gracious to provide encouraging reviews of my book Brass Heavens: Reasons for Unanswered Prayer[1].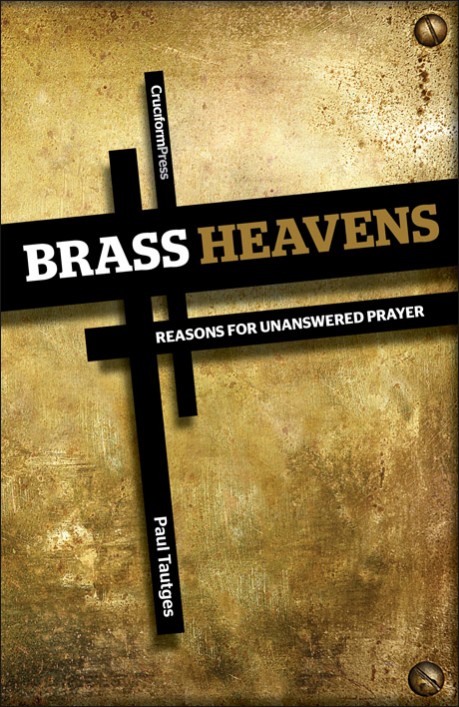 The Gospel Coalition[2] review says, "Brass Heavens is solid meat and potatoes for the Christian. The book is a slow unpacking of one aspect of the fear of God: if you live a life of quiet rebellion against God, the heavens will be brass. It's that simple."
Captured by Christ[3] blog writes, "I recommend this book to new Christians who are learning the ins and outs of prayer. I would also recommend this book to Christians who have questions about unanswered prayer – either they have encountered this phenomena for the first time or have been wandering in the dark deserts for a season."
David Murray, at Head, Heart, Hand[4], writes, "Paul's connection with the struggles of everyday life is apparent in the illustrations that pepper the book and will encourage you that this is a man who is writing from the furnace, not the classroom."
Angela Parsley, at Refresh My Soul[5], says, "If you do not buy any other book this year get this one."
Aaron Armstrong, at Blogging Theologically[6], writes, "Of everything Tautges says about unanswered prayer in Brass Heavens, this surely is the most critical for us to remember: prayers may go unanswered not because God is displeased us, but because He loves us enough to say "no." And this truly is a gift, whether we realize it or not."
Good Reads[7] explains, "In Brass Heavens author, pastor, and biblical counselor Paul Tautges grounds prayer in the character of our Triune God whose very nature is to share generously his good gifts with his children. Upon that foundation, he then explores six reasons why at times God appears to go silent."
Here's another review at Missions Outlook[8].
Tom Farr[9] says, "Brass Heavens isn't an easy book to read because you'll be confronted with the ways you may hijack God's work in your life. However, it is a much-needed message for believers that God hears and wants to answer our prayers."
Missives of a Texas Exile[10]: "This short book is one that needs to be read every few years in a Christian's life, if not more often."
If, like me, you wrestle through the problem of unanswered prayer in your Christian life, then you will want to walk through the Scriptures where we find grace and truth from the Lord.
Listen to radio interview with Kevin Boling here[11].
ORDER Brass Heavens from Grace and Truth Books[12]
Endnotes:
Brass Heavens: Reasons for Unanswered Prayer: http://www.wtsbooks.com/brass-heavens-reasons-for-unanswered-prayer-paul-tautges-9781936760633
The Gospel Coalition: https://www.thegospelcoalition.org/article/brass_heavens_reasons_for_unanswered_prayer
Captured by Christ: http://www.capturedbychrist.com/1/post/2013/01/brass-heavens-a-review.html
Head, Heart, Hand: http://headhearthand.org/blog/2013/02/15/brass-heavens-book-review/
Refresh My Soul: http://refreshmysoulblog.blogspot.com/2013/02/book-review-brass-heavens-reasons-for.html
Blogging Theologically: http://www.bloggingtheologically.com/2013/01/29/brass-heavens-by-paul-tautges/
Good Reads: http://www.goodreads.com/book/show/17227658-brass-heavens
Missions Outlook: http://missionsoutlook.blogspot.com/2013/02/book-review-brass-heavens.html
Tom Farr: http://tom-farr.blogspot.com/2013/02/review-of-brass-heavens-by-paul-tautges.html
Missives of a Texas Exile: http://exilictexan.blogspot.com/2013/02/review-of-brass-heavens-by-paul-tautges.html
here: http://www.sermonaudio.com/sermoninfo.asp?SID=3141312521
Grace and Truth Books: http://www.graceandtruthbooks.com/product/brass-heavens-reasons-for-unanswered-prayer
Source URL: https://counselingoneanother.com/2013/03/12/reviews-of-brass-heavens/
---