Journey to Biblical Counseling: An Interview with David Powlison
by Paul Tautges | June 9, 2019 2:45 pm
[Since my friend David Powlison entered the joy of his Master this past Friday, I've wanted to write a tribute to his gracious influence in my life. However, an injury to my hands has made it difficult to type. For now, I'm re-posting this 2-part interview from January 10, 2013, which was part of a series that I call Journey to Biblical Counseling.]
Welcome to the second installment of our new feature Journey to Biblical Counseling. Here I interview various pastors, teachers, equippers, authors, and leaders in the biblical counseling movement. What led them to biblical counseling? What were some of the influences the Lord used in their journey? How do they now define biblical counseling? These are just a few of the questions they will answer.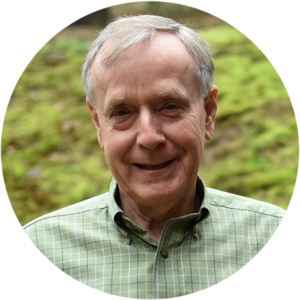 Our special guest for this edition is Dr. David Powlison of the Christian Counseling & Educational Foundation[1] and Westminster Theological Seminary[2].
PT: David, what is your current involvement in biblical counseling?
DP: I have worked at the Christian Counseling and Educational Foundation (CCEF[3]) since becoming an intern in 1978, while still a seminary student. The ministry of CCEF has enabled me to flourish in doing the things that I am good at, and to be covered by other people in the areas where I am weak. It's been a great example of the way an institution can hire multiple kinds of gifted people in order to allow each person to flourish using their strengths. I don't have to wear ten hats that take me into my areas of weakness. Aside from CCEF, I served on the board of directors of the Association of Certified Biblical Counselors (ACBC[4]) for 20 years, and I was in at the ground floor of the founding of the Biblical Counseling Coalition (BCC[5]). I have taught at Westminster Theological Seminary (WTS) steadily ever since my involvement at CCEF began, and I have also taught at various other seminaries as an adjunct professor. I feel so privileged—in this wonderful mercy of God—to be able to make a living by being who I am and doing what I most love. It is hard and challenging work, but such a wonderful privilege. When Paul Tripp and I used to travel a lot together, we would often return from a weekend conference saying, "Can you believe they pay us to do this? We would do this kind of ministry on the weekend even if we drove a cab during the week!"
My responsibilities at CCEF are primarily teaching, writing, and editing the Journal of Biblical Counseling[6] (JBC), as well as mentoring and interacting with students at WTS. Due to health problems a few years ago I had to stop my regular counseling schedule. But one of the ways, in God's mercy, that I have compensated for the lack of weekly counseling is by including in my teaching a hearty component of self-counseling for the students. For example, I have 130 self-counseling projects coming in this week. It is a wonderful, vicarious opportunity to see the ways in which the Lord as shepherd, the Father as vine-dresser, the Holy Spirit as active agent, and the Word of Truth meet people in their daily struggles and grow them into Christ's image. I have interacted with 2,000-3,000 self-counseling projects over the years, seeing the truth of God re-work people's lives day-in and day-out, year-in and year-out.
I could never be convinced not to be a biblical counselor! It would be to deny how my own life has been transformed by the steady mercies and truth of God, and by the steady benefit of His people and His means of grace. Having counseled so many people and seen the relevance of "God's take" on our lives, and the power of His engagement, it would be hard to argue myself out of believing that this is indeed the way to go.
PT: In 50 words or less, how do you define Biblical Counseling?
DP: Counseling is one part of the overall ministry of Christ that meets us publicly, privately, and interpersonally. The public means of grace—preaching, teaching, the Lord's Supper, worship, and fellowship—meet people in crowds. You never have to attach anyone's name to it, but the Holy Spirit is able to personalize the public ministry of the gospel and the truth of the Lord. Then there is the private ministry of the Word of Truth. This is your own prayer life, meditation on and study of Scripture, application, journaling, and your own implementation and meditations of the heart. Finally, biblical counseling is part of the interpersonal ministry of the Word. God means for us to bear each other's burdens. It's a good goal to become more competent at self-counsel, the private ministry, but we always need other people. We need their prayers, encouragement, and insight. There may be something you have said to yourself a hundred times, but then you hear it from the lips of someone else, and the Holy Spirit chooses to work. Hearing it from another person's voice makes it come to life. Wise counseling brings that personalized relevance of interpersonal ministry of the eternal Word of Truth that turns our lives upside down and inside out.
PT: How does your definition today differ from 5 or 10 years ago?
DP: There is not much difference in definition over the past 5 or 10 years. But when I think back through 35 years, I would describe my experience of biblical counseling as living in a treasure house. There are always more riches—slowly acquired—in God's wise, loving, and truthful ways with us.
For example, one key juncture came when I realized that "biblical counseling" is not just about "counseling," per se, but about the entire second half of the Great Commission to make disciples of Christ. This means remaking men, women, and children into His image, which means dealing with "counseling issues": anger and forgiveness; anxiety and trust; addictions and self-control; suffering and meaning; despair and hope; broken relationships and peacemaking; presumption and humility. It's just as much for those who don't think they need counseling as for those who obviously "need counseling." Jesus' call to remake people in his image comes with two subordinate clauses. First, baptizing them in God's name (which I take to be shorthand for evangelism, baptism, church planting—all that entails entrance into the kingdom). Then teaching them to obey all the love, wisdom, trust, and obedience that Jesus commands. The entire Christian life is a process of changing, learning, growing, struggling to become wiser and more loving. Biblical counseling is just one component of that second half of the Great Commission, among the means of grace that work unto our renewal, transformation, reconstruction, and renovation.
So I understand counseling more broadly than I once did, not just as the biblical equivalent or alternative to what secular people do, but as part of this cosmic and personal renewal at the center of the Christian faith. Coming to faith out of a secular background, I was excited about biblical counseling. I had been a psychology major and was working in the mental health field when I came to faith in Christ. My life was turned upside down. Christianity was a whole different dance step from the secular training and models I had received. I initially saw this as the radical way the Bible taught us to approach counseling. But it's bigger than that. It's the Bible's approach to life.
PT: What people, circumstances, and influences did the Holy Spirit use to move you into that "whole different dance step," from your secular training to your present convictions?
DP: Well, there are far more than can be listed, but I will mention a few. First, I had a very dramatic conversion when I was almost 26 years old. I was a completely secular man. I hated Christianity. On the scale of 1-10 of my positive aspirations, and a scale of -1 to -10 of what I never wanted become, Christianity was at the bottom of the bottom. But the Holy Spirit is mercifully sovereign. It was as though God put the hook in me, and then allowed the fish to run, but at a certain point He said, "You are coming in the boat, buddy!" It was a conversion like C.S. Lewis's "surprised by joy, the most unwilling convert in all of Christendom."
Second, I am very grateful that both by teaching and experience I came to understand the significance of the confluence of the Holy Spirit and the Word of God. You see, if you just talk about the Word you become a rationalist. And if you just talk about the Spirit you go wacky. Sanctification is the perfect confluence. The people who influenced me had caught the music of that sweet dance. For example, the key passage in my conversion was Ezekiel 36 . I heard the wonderful promise that God takes out a heart of stone and puts a soft heart of flesh in its place. God promises to wash us and give us a new life. The Holy Spirit powerfully took that Word and arrested a man who had lived in his self-referential selfishness for 25 years. Stacked up against life experience was the Word that promised a new life. The Word animated by the Holy Spirit won the day. Our faith has many different aspects, but that perfect interplay of Word and Spirit is something that is easy to get wrong.
Third, just being around godly men and women, good preaching, teaching, counsel, heartfelt worship, candid friendship, and communities that love the Lord has impacted me immensely. I count myself fortunate to never have been part of a community that had some of the typical defects that can attend Christendom, such as legalism, or dead orthodoxy, or liberal theology, or wild-fire pietism. I have always been part of a people who sought balance and fidelity, bringing all of the factors of vibrant Christian faith into play.
I've had wonderful nurture and great role models. For example, Jack Miller, my pastor for 20 years was a wonderful influence. He communicated such a sense that God is real, that He is merciful and approachable, and that He hears our prayers. Jack lived the reality of our fellowship as God's people.
I was also greatly influenced by Jay Adams, both reading his writings and hearing him speak. (He had already left Westminster and CCEF by the time I got there.) Here is one vivid example from when I'd been a Christian for little more than a year. Like a lot of young Christians, I had been initially nurtured in a Watchman Nee, "Let go and let God" pietism. But Jay brought the Bible to life in an utterly different way. I remember the very seat where I was sitting in the auditorium, and the passage Jay Adams was teaching from—Colossians 3—about lying, immorality, lusts, selfishness, and anger, and the contrast with love and the graces of the Spirit. I remember this thought running through my mind like an explosion of light: The Bible is practical. At that moment, I came to see that the Bible is not about a super-spiritual realm of higher numinal reality. The Bible is about what life is about. The Bible speaks to anxieties, angers, despairs, relationships, hurts, grumbling—you name it. The Bible is about life—about what we trust, how we treat people, how we deal with unruly emotions. The Bible is practical because Jesus Christ became incarnate as one of us. He entered our actual, concrete plight, calling us to faith and obedience.
Don't miss reading part 2 of this interview, where you will read David's totally unexpected answer to the question, "How can someone begin to be equipped for the one-another ministry of counseling?"
Endnotes:
Christian Counseling & Educational Foundation: http://www.ccef.org
Westminster Theological Seminary: http://www.wts.edu
CCEF: http://www.ccef.org
ACBC: http://www.biblicalcounseling.com
BCC: http://www.biblicalcounselingcoalition.org
Journal of Biblical Counseling: http://www.ccef.org/jbc
Source URL: https://counselingoneanother.com/2019/06/09/an-interview-with-david-powlison-part-1/
---