Dads Are Disciplers 1:3 – Let's Do it for the Sake of the Church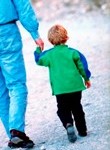 The importance of being the spiritual leaders in our homes has far-reaching ramifications for the church for generations to come. Perhaps one of the reasons the evangelical church in America is so impotent in this generation is because we have neglected one of the key biblical qualifications for church leaders: "He must be one who manages his own household well, keeping his children under control with all dignity [but if a man does not know how to manage his own household, how will he take care of the church of God?]" (1 Timothy 3:4-5). When church leaders fail to model strong, godly leadership of our wives and children, we not only disqualify ourselves from the ministry, but we rob the members of our church of visible demonstrations of the loving headship of Jesus Christ.
Could it be that one reason we have failed to have the kind of leadership that the church needs is because we have not been challenging one another to grow in the practical outworking of our faith in our homes? When we fail to produce strong families that reflect the grace and truth of Jesus Christ then the church is shortchanged of the quality of leaders she so desperately needs. I need your help and you need mine. Together, we can lovingly "hold each other's feet to the fire," with grace, so that we will not lose sight of the fact that, biblically speaking, dads are disciplers.
Let us not be serious about discipling our kids merely because we want to reap the blessing in our own families, but let us do so for the sake of the church—for generations to come.