A couple months ago, our church had the privilege of hosting a financial stewardship seminar with Dr. John Temple, author and financial teacher. Some of you have inquired as to whether or not the audio files from the conference are available. Now they are! Here is the link.
John Temple is also the author of several books on finances. Check them out: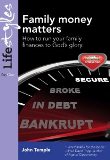 Family Money Matters
Make Your Church's Money Work (written for church leaders)
Be Successful. Be Spiritual (This book is not primarily about money management, but presents the biblical philosophy of life and vocation as a stewardship from God)
View John's books here.