When you need hope in the midst of your hopelessness what you need is the comfort and assurance of God mediated to you through someone who has "been there" (2 Cor 1:3-5). The God of all comfort ministers His never-ending supply of grace through fellow believers who have experienced His care in their affliction. That's one reason why Joni Eareckson Tada is such a precious gift from God to the church.
Nothing has been easy about living as a quadriplegic for over 45 years. Joni will tell you that. If you read her books or listen to her Joni & Friends radio spots you are blessed by her transparency. There is no pretending. She will tell you how painful, fearful, and difficult her life is. But she does not stop there. God gives her the grace to triumph through hope—hope in Christ. Every time I read her writings my heart is blessed and my soul is refreshed.
That's why it makes me glad to tell you about 8 new pamphlets that Joni has written, which speak to the matter of suffering by encouraging us to look to the Lord. She spurs on our Christian growth and gently counsels our response to the trials of life.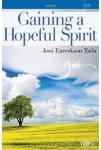 Here's just one example. In the pamphlet Gaining a Hopeful Spirit, Joni gives us 3 practical steps toward hope. "Do you feel a situation is hopeless? Are you overcome with doubts and fears? Have you lost your way on your life's journey? Move forward into hope by…
Turning disappointment on its head. Look at this promise from Isaiah 49:23: "Those who hope in me will not be disappointed." This is a promise you can stand on. When dark moods encroach and disappointment deflates your spirits, take it as a signal to get into God's Word…to pray earnestly…to witness boldly…and to believe God means what he says. Place "hopeless" circumstances in his hands, and you won't be disappointed.
Talking to your soul. Remind your sad soul of things from God's Word you know to be true. The psalmist did this all the time. He says to himself in Psalm 42:5-6, "Why are you downcast, O my soul? Why so disturbed within me? Put your hope in God, for I will yet praise him, my Savior and my God." May your soul submit to God's commands. Have it stand at attention every morning, awaiting God's directions. Encouraging your own soul is a solid step toward hope.
Keeping your eye on the goal. Take on life's problems one by one. Do not allow your emotions to rule the day, but faithfully persevere in trusting God. Ultimately, that perseverance will produce a godly character in your life, and establish a concrete hope that can never be shaken. Romans 5:3-5 says, "We know that suffering produces perseverance; perseverance, character; and character, hope. And hope does not disappoint us, because God has poured out his love into our hearts by the Holy Spirit, whom he has given us."
Biblical hope is forever linked to God-centered faith. "Now faith is the assurance of things hoped for, the conviction of things not seen" (Heb 11:1).