Why Easter? – A Tool for Simple Family Devotions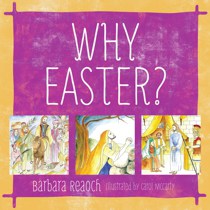 Today, I picked up my copy of a really good tool for 4-weeks of simple family devotions, Why Easter?, by Barbara Reaoch, which I plan to take my four littlest one through beginning next week.
Easter is a celebration of the life, death, and resurrection of Jesus Christ. But how many children know why Jesus died and came to life again? This illustrated devotional contains 28 lessons—one for each day of the four weeks leading up to Easter—in a short, focused format designed to help parents show the Christ of Easter to their children.
Here's what others have said about Why Easter?
"To grasp the timeless story of the resurrection is to open one's heart to a life-change that will last for all of eternity. This is why I am so excited about Why Easter? Using the familiar teaching tools of reading, discussion, singing, and memorizing, Barbara Reaoch employs every means possible to illuminate Christ's resurrection to thirsty young hearts and minds. The lessons are deep, true, fascinating, and insightful—I heartily recommend this remarkable book to children's leaders, parents, and teachers; most of all, I recommend Why Easter? to every child!"
— Joni Earickson Tada, Joni and Friends International Disability Center
"In this four-week study, Barbara Reaoch has provided a wonderful resource that helps children understand the reason for Christ's coming. The selection and discussion of passages is superb, and the  questions, memory verses, and hymns fit beautifully with the theme of each lesson. This book is clear and understandable, theologically rich and Scripturally faithful. Any child who studies or is guided through this book will be greatly blessed."
— Bruce A. Ware, Professor of Christian Theology, Southern Seminary, Author of Big Truths for Young Hearts
"I am happy to recommend Why Easter? to parents (and grandparents) who long to train their children in the true meaning of Easter. Easy to use, it gives insight into Scripture and the illustrations bring life to the truths of the text."
— Jean Nystrand, former Executive Director of Bible Study Fellowship
"I cannot imagine a child or parent who would not benefit from Why Easter? With remarkable age-appropriate sensitivity, the daily readings leading up to Easter give great help to parents who are making time for instruction and discussion a priority. What a beautiful and worthy book!"
— T. Don Guthrie, Senior Pastor, First Baptist Church, San Antonio
If you've been struggling with family devotions lately, why not use this tool to get back on track?