Training Conference with Stuart Scott and Martha Peace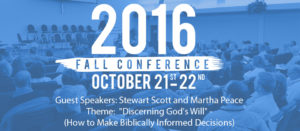 I'm pleased to let you know of a valuable conference taking place in late-October at the The Biblical Counseling Training Center of Arizona. The theme for their 11th annual conference is "Discerning God's Will – How to Make Biblically Informed Decisions?" Stuart Scott is the keynote speaker. As in previous years, there will also be a Women's Day conference with Martha Peace.
Get all the details and register here.