10 Practical Suggestions for People who are Lonely
Yesterday, during a radio interview about dealing with grief and loneliness during the holidays, I mentioned a wonderful resource from Deborah Howard, RN. She writes, "Loneliness takes many forms and its causes are almost endless. There's loneliness from:
Losing a spouse or other loved one.
Being alone in a new environment.
Being single in what seems like a world full of couples.
Being in a loveless or troubled marriage.
Being married to someone who, through debilitating illness, is a shadow of his/her former self.
Being elderly, often starved for companionship or a friendly touch.
Being exceptional—whether exceptionally beautiful or plain, exceptionally intelligent or cognitively challenged, exceptionally fat/skinny, exceptionally tall/short, exceptionally famous or seemingly invisible.
Anything that sets us apart from others can cause us to feel disconnected and isolated.
Not only are there different causes, but loneliness varies in other ways. Some loneliness is temporary; some is long-term. Some is deep and aching; some is merely unsettling. Some causes minor discomfort; some causes major dysfunction."
The above words, and more perspectives on loneliness, are found in the first chapter of HELP! I'm So Lonely. In the second chapter, Deborah explains why loneliness is an age-old problem, followed by a chapter on how God ministers to us in our loneliness.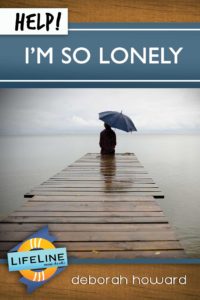 But what practical suggestions could help us in our loneliness and that we can give to those who are recovering from loneliness? Deborah Howard gives the following eight bits of counsel in the final chapter. The following is a very brief summary of her counsel.
Spend time with people. Whether you realize it or not, you need people. Loneliness and grief shouldn't be kept to yourself. Perhaps you don't want to be in big crowds. Fine. Then spend one-on-one time with someone you care about. Schedule lunch with a friend and notice the taste of the food, the décor, the waiter/waitress—try to live "in the moment." Listen closely to your lunch companion's conversation. The first few times you do it may seem empty and unfulfilling. But keep doing it.
Don't be afraid or ashamed to cry. Crying can be therapeutic. It may make other people uncomfortable, but that's their issue, not yours. Tears are a healthy response to loss. It doesn't mean you don't trust the Lord or that your faith is weak. It simply means your heart is breaking and your body is responding appropriately for you!
Enjoy some peace and quiet in nature. If you prefer spending time alone, don't do it locked up in your house.  Get outside. Surround yourself with nature. It's amazing how the Lord ministers to us through His creation. Even something as simple as sitting outside, enjoying the sunshine or a gentle breeze can be amazingly restorative and uplifting.
Take care of yourself. Basically, this means doing the things that ensure your overall physical well-being. Grieving people sometimes forget or skip the simplest tasks. Eat regular, healthy meals. True, cooking nutritious meals for one isn't easy. But don't just eat "easy" stuff—take-out, fast food, or microwave meals—and miss out on important nutrition (in fact, watching a person's weight is a good way to determine how well they are coping with loss). So try to eat regularly, even if food seems to have lost its taste and appeal. You need it to get better.
Cultivate new interests. Get involved in meaningful activities. This may mean taking a cooking or art class. Helping others can be fulfilling, so you might consider volunteering at a soup kitchen, church, hospital or hospice. Maybe you've always wanted to learn another language, or how to garden, play tennis or the violin. Do it now.
Keep a daily journal of your thoughts. Set daily goals and meet them. No one else has to ever see your work. But writing is a way to express the inner workings of your heart/mind. It can be therapeutic to put your thoughts on paper, to review them periodically and see the progression of the healing process.
Consider getting a pet. It's amazing how much company a pet provides. Pet ownership provides unconditional love, a reason to get out of bed, something to be responsible for, and a continual source of amusement.
You must choose to live again. Realize that getting better isn't a betrayal. Several respondents mentioned feeling disloyal when a renewed sense of living emerged. They said they felt they should suffer for their loved one and moving on with their life left them feeling guilty. Please don't shipwreck your recovery with this errant view of love.
Don't abandon the people of God. The church can be of significant value to those who are hurting and lonely. In a way, the body of Christ (His church) is like arms that can embrace you, hands that can serve you, expressions of empathy that can comfort you. Don't turn your back on that kind of support. Sometimes a person becomes angry at his circumstances and angry at God.  "As a result, he becomes lonelier.
Stay in the Word. I'll end this list of suggestions with this one. Even if you know the Bible well, you'll need to stay in the word. It reminds us of truths we need to meditate upon. The scriptures help us keep the big picture in perspective. We must constantly remember who we are and Who He is! We must constantly be reminded of His love, His justice, His sovereignty, His patience with us. By keeping our minds focused on His word, we can do this. Stay in the word. Devour it.  Trust it. Lean upon it. It will provide all we need to live our lives responsibly, lovingly, and obediently.
Some might say they can never get over losing their loved one. And I'd tell them, "You're right.  You won't get over that loss, but you can get through it." We can move past pain and loneliness to a place of contentment and joy. No, it won't be the same life, but it can still be rich, fulfilling, and full of God's love and grace. When we're hurting the most, it helps to remember that life does go on.
If you are struggling with loneliness or are concerned about a friend or loved one who seems trapped in grief, seek out more counsel in Deborah's mini-book, HELP! I'm So Lonely.