Our Journey Home from the Ruins of Sexual Abuse
It's hard for me to imagine something more horrific than the sexual abuse of children. Yet every one of our churches contains precious men and women who have experienced this abuse and, therefore, are in need of our compassionate ministry of grace. Because this need is so great, I am pleased to inform you of a new book/workbook written by two women who have been there. With grace and truth, Sue Nicewander and Maria Brookins bring the hope of the gospel into shattered lives. The authors share why they created this discipleship resource.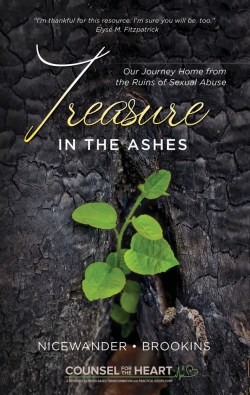 Treasure in the Ashes has been written because we are heartbroken by the number of women and men in our churches who suffer silently. For so many of us, the silence is deafening. Our hearts' desire is that Treasure in the Ashes will be a voice of hope for those who suffer (whom we call learning friends) and a means of equipping those who want to help (whom we call leading friends). This study is a way for local churches and Christian friendships to become places of refuge and healing as we learn to bear one another's burdens, not just emotion-ally, but purposefully.
We chose the subtitle Our Journey Home from the Ruins of Sexual Abuse for a few very special reasons.
• Our: We are walking together in unity and faith as God leads us (Psalm 133, Galatians 2:20, and Titus 2). We are
not alone.
• Journey: Life is a process of learning and growing (Psalm 23). We are pilgrims here, called to fix our eyes on Jesus as we travel through this life (Philippians 3:20).
• Home: Home is a beautiful place of peace and safety in the presence of our good and merciful God, where we belong now and for all eternity (John 14:1–3, 23).
Treasure in the Ashes has been designed with the one-another relationships of the Bible in mind because we believe that hope and healing are found with God and his people. "Bear one another's burdens," Galatians 6:2 states, "and so fulfill the law of Christ." Ecclesiastes 4:9 tells us that "Two are better than one, because they have a good reward for their labor. For if they fall, one will lift up [her] companion….And a threefold cord is not quickly broken."
Here's my endorsement:
"Treasure in the Ashes is an instrument of healing grace. Whether you are a victim or one called to help those who have been abused, this Christ-centered, Scripture-saturated, grace-infused labor of love will wisely lead you through a painful past to the compassionate heart of the Savior."