"Tying the Knot" Is Still My Top Choice for Premarital Counseling
This morning, I met with an engaged couple for the fourth of our eight sessions of premarital counseling. Again, I was reminded of why I switched to Rob Green's guide, Tying the Knot: A Premarital Guide to a Strong & Lasting Marriage, a couple years ago–and why it is our church's preferred resource.
As one who has been involved in Christian ministry for almost 30 years, I've seen my share of Christian marriages that are Christian in name only. At first glance they appear to be authentically Christian, but soon reveal that Jesus is not actually the center of them. Instead, the wife or husband is the center. Tying the Knot gently dismantles self-centered imitations of Christian marriage. It's not a book about affirming the modern notion that marriage is to help me be a better me. Instead, it's all about placing and keeping Jesus at the center of life and marriage. For example, in the first chapter, Green writes to the engaged couple: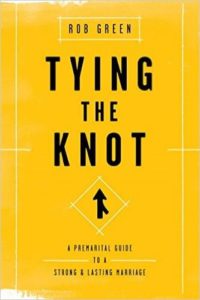 Each of you was designed by God to love him first. When you function according to your purpose, you function at maximum capacity. But when Jesus is not at the center, you become like a pair of pliers trying to embed a nail in a piece of wood.
The book's Table of Contents lives up to this call to place Jesus at the center of every part of marriage.
Chapter 1: Jesus Must Be the Center of Your Life (Yes, even before marriage)
Chapter 2: Love with Jesus at the Center
Chapter 3: Problem Solving with Jesus as the Center
Chapter 4: Roles and Expectations with Jesus as the Center
Chapter 5: Communication with Jesus as the Center
Chapter 6: Finances with Jesus as the Center
Chapter 8: Intimacy with Jesus as the Center
If you are looking for a sound resource for engaged couples to read and discuss, check out Tying the Knot. By the way, I've also recommended it to couples who have been married for some time, but need a refresher.