Four Ways to Understand Spiritual Warfare Biblically
"Did you know that the term spiritual warfare never appears in Scripture?" asks David Powlison in his exceptional little book, Safe & Sound: Standing Firm in Spiritual Battles. He goes on to explain that spiritual warfare is
a pastoral-theological term describing the conflict occurring at the heart of the Christian life. For good, biblical, and practical reasons, Christians have always understood that we face a three-fold moral enemy: the world, the flesh, and the devil. Over this unholy trinity hangs the specter of our last enemy—the shadow of death and death itself. Scripture teaches that all of these enemies are ruled by Satan, the prince of this world.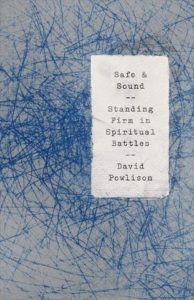 Powlison then provides four ways to understand spiritual warfare biblically.
Spiritual warfare is a metaphor for standing on the Lord's side in the epic struggle between the Lord and his enemies. "Your aim as a Christian pastor, counselor, and friend is to protect children of light (Ephesians 5:8) from being wooed back into darkness and to woo the rest of mankind (Ephesians 2:3) out of darkness and into the light."
Spiritual warfare is a moral struggle. "It is a conflict over who you are, what you believe, and how you live."
Spiritual warfare is a synonym for the struggles of the Christian life. "There are no special insights or special techniques that kick in just because Satan's fingerprints are on something that is happening. It's all one war—and his mark is on every struggle that is wrong and dark."
Spiritual warfare is a battle for lordship. This battle encompasses all of life, not just a few odd or bizzare moments. At its core, it's the battle for who you will serve.
In a summary paragraph, Powlison writes, "Scripture treats spiritual warfare as a normal, everyday part of the Christian life, and so we should as well. It's not about spooky special effects. It's about how we think, feel, live, desire, and act in the presence of our enemies."
I strongly encourage you to add Safe & Sound to your 2020 reading list.
PREVIOUS POST: 10 Quotes about Spiritual Warfare from David Powlison's Final Book