Death Is Not My Friend, But Jesus Is
Coronavirus has brought us back to the basics in shocking ways as we, our loved ones, and the world face the reality of our mortality. In the wake of this pandemic, our merciful God has recently healed several of my personal friends and family of serious medical problems. While I've been truly grateful for that, my own heart is challenged with the fact that in 2016 God chose not to spare my husband. After a series of life-shattering events during three years of suffering, Jim died and I became a widow.
Widow. Widower. 2016 added 800,000 to those ranks, with 87.5% of us being women. Time will tell how this current pandemic has increased those numbers.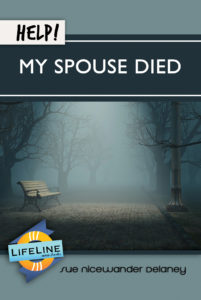 But God is at work, even in such pain and suffering. For example, several months ago He provided a writing opportunity to share my personal experience of widowhood. Last fall at my laptop, I was unaware that a pandemic threatened to sweep the world. But God knew.
Help! My Spouse Died was released a few weeks ago, my testimonial – one tiny voice shouting out hope during the abject pain of suffering and death. God is good when all else seems bleak. He is watching over us when our loved ones are very sick, even when death makes its claim, and He wants us to know that He is in control even when all is lost. Those words may seem painfully inadequate to you when your heart is wrung by grief. Indeed, my little story is dwarfed as thousands of lives are in jeopardy right now, each with its own important narrative. Nevertheless God has chosen to lift my story into the light, even briefly, perhaps to encourage you to cling to Him as you face a nightmare. That is my prayer, and that is so like God. He finds us in our darkness.
I am careful to avoid sugar-coating anything because the truth is: God sometimes lets our worst fears happen. He doesn't fix everything. He is not a fairy-tale God. Scripture tells us that death is our enemy, not our friend, and God has appointed death and judgment for every person (I Corinthians 15:26; Hebrews 9:27). These are hard truths to swallow.
Widows and widowers are forced to experience our enemy Death's ravages, and in our agony we can begin to wonder if God still loves us. Or if He ever did. We can be baffled by the thought that He is unfairly meting out hardship for us while sparing the ungodly (Psalm 73). Our perplexity can double us over, drive us to despair. Does He care? Is He willing to help us, or able to unravel the chaos and weave hope in its wake as He claims, while our world continues to crumble around us as we weep?
Words fall woefully short and explanations elude. But the Gospel effectually speaks where all else fails. Although God brings death upon all of us at some point, He is not our enemy. Instead, Jesus Christ stepped in as our Friend by overcoming death on our behalf. He understands the process, the unspeakable pain, the relentless struggle: Man of Sorrows, acquainted with grief (Isaiah 53:3).
As a believer in Christ, my story is wrapped up in His, reflecting Him dimly (and often poorly). God knew that would happen. But Jesus defeated death and then opened the door of salvation to welcome me anyway. His death and resurrection freely extended eternal life when I humbly admitted my need of forgiveness and accepted His sacrifice. Because of Christ, death has lost its sting and can no longer triumph over me – not in the larger sense.
My present sorrow is a shadow, a temporal condition, not a condemnation or an omen. The Gospel reminds me of His eternal gift, offered in unfailing love, as I walk in God's unexpected, treacherous, hard way. In His wisdom, this side of heaven He chooses not to promise a happy life, resolution of all wrongs, the triumph of good over evil. Yes, He often does give us those good gifts and more ease than we deserve. In fact, He eventually brought me into a second marriage. Ultimately, though, He is doing something vastly bigger and better than choreographing favorable circumstances. But that discussion is for my next blog.
You may feel overwhelmed and defeated in this stage of your life; if so, I hope I haven't given you too much to ponder. I know what it's like to live in a fog, unable to remember, read, or think through anything. I remember how bewildering it is to feel as if you're losing your mind as your heart breaks and your world falls apart.
But let me encourage your faith in God: he loves you. God's mercy is vast, and Jesus is praying that your faith will not fail. You and I are safe in his care. As you go to sleep tonight, know that you are not alone. Reach out for him and know he is holding you close. The Lover of your soul is with you now and forevermore, and he has you. You are cherished and safe in his arms (p. 11).
In Shepherd Press's mini-book Help! My Spouse Died, you can read more about my story into widowhood, exploring some of the difficult questions I had about God, my struggle with despair, and my journey back to hope. To read about experiencing sudden disability, look for Help! My Loved One Had a Stroke in January 2021.
Sue Nicewander Delaney, MABC, ACBC, BCC, has been counseling, teaching, and writing since 1994. Sue earned her MA in biblical counseling from Central Baptist Theological Seminary. She and late husband Jim were married 43 years, with two married daughters and six grandchildren. Sue married Darren Delaney in 2018.