4 Tips for Communicating in a Digital World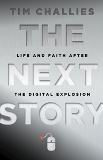 Today, I again draw your attention to the very helpful book by Tim Challies, The Next Story: Life and Faith after the Digital Explosion. In the application wrap-up for the chapter on Speaking, Truthing, Loving, Living, Tim asks, "How can we ensure in practical ways that we are speaking truth in love?" He then gives us 4 recommendations for Christian communication in our technological world, which we really need to also apply to our real-time, face-to-face relationships as we love and counsel one another.
Be visible. Online anonymity is a dangerous enemy that can open the door to selfish, sinful life patterns. "Simply by removing the anonymity of the web we can guard our hearts." Be visible. Don't live a secret, double life. And what about your real-time relationships? Are you "visible," honest, transparent with others? Or do you not allow people—even those closest to you—to see the real you? Let's meditate on Ephesians 5:8.
Be accountable. Be sure that others know how you spend your time online. Ask a brother or sister in Christ to hold you accountable. Personally, I have two brothers who serve as my Covenant Eyes accountability partners. The Internet is simply too dangerous a territory to be out there navigating alone. None of us should trust ourselves that much! And what about your real-time relationships? How intentional are your relationships of accountability with fellow brothers or sisters in Christ? How teachable are you toward someone who loves you enough to gently rebuke you? Let's meditate on Proverbs 15:31-33.
Be real. Strive for integrity and genuineness in how you portray yourself online. Is the online "you" the real you or what you wish you were or what you want people to believe? And what about your real-time relationships? For example, do the people at your church see the real you when you gather together? Or do you fear what people may think of you if you would risk being more transparent? Let's meditate on 1 Peter 2:1.
Be mature. Spiritual maturity is marked by the practice of speaking the truth in love. "We join in community with other Christians where we can live our lives visibly before them, eager and thankful for their guidance and, if necessary, their rebuke." And what about your real-time relationships? Are you speaking the truth in love as part of authentic community? Are you receiving truth from others in a spirit of humility? Let's meditate on Ephesians 4:15 and James 3:1-12.
Tomorrow, I'll wrap up my comments concerning The Next Story by letting you know what I think is the best page in the book and show you how it relates to counseling one another.