Accepted by God and Reconciled by Jesus
Each time we are overcome by the depths of our sin against God, or the suffering it brings into our own lives and the lives of others, we are graciously granted an opportunity from God to run once again into the arms of our only true source of hope—Jesus. There is no hope anywhere else. No hope in our solving our own problems, cleaning up our own lives, or making up for the sins we have committed. Hope is found only in humbling ourselves before the One who says, "Come to Me, all who are weary and heavy-laden, and I will give you rest. Take My yoke upon you and learn from Me, for I am gentle and humble in heart, and you will find rest for your souls. For My yoke is easy and My burden is light" (Matthew 11:28–30).
This may mean you need to come to the end of yourself for the very first time, to let the painful consequences of sin do the work God has sent them to accomplish. For the first time in your life, you must reach out with empty hands of faith to Jesus, who said, "Come to Me. Come to Me, and I will forgive you. Come to Me, and I will cleanse you. Come to Me, and I will give you rest in the midst of your pain and affliction." Come to Jesus and He will accept you. Not because you are acceptable, but because He has already been accepted by God and gives that same acceptance to those who repent and believe in Him. He lives now to save you from your sin and bring you back to God.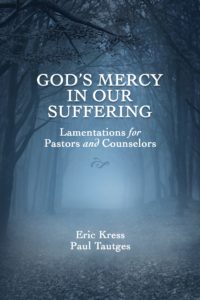 Read Hebrews 7:23–27. What is the basis of any sinner's acceptance with God? What does the Bible mean when it refers to Jesus as the Great High Priest for sinners? What does it mean that Jesus lives to intercede for sinners?
If you have been a believer in Christ for quite some time, this is another opportunity to come to Him. It is a time to thank Him for absorbing the wrath of God against your sins so that you don't have to endure it for all of eternity.
Read Romans 5:6–10. What kind of people did Jesus die for? What is the greatest demonstration of the love of God?
Write out your own prayer of thanks to God for Jesus and for His cross of reconciliation.
Excerpted from God's Mercy In Our Suffering.