Another Poster for Your Counseling Room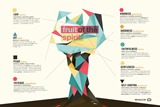 Tim Challies has produced another Visual Theology infographic that is a wonderful teaching tool to hang in whichever office or room you find yourself doing most of your counseling in. The Fruit of the Spirit visual is a reminder to all of us involved in one-another ministry of the goal of biblical counseling, i.e. to become like Christ, and the supernatural empowerment that enables us to make progress, i.e. the Holy Spirit.
Read my comments on another infographic that hangs in my office, Think on These Things.