It's a joy for me to let you know that Shepherd Press has announced the release of my book Pray About Everything, and are offering a generous pre-order discount on the paperback and the eBook is FREE. Here's what others have said about this book: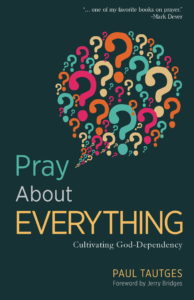 …this is one of my favorite books on prayer…
—Mark Dever, 9Marks Ministries

…a valuable contribution to our theology and practice of prayer.
—Jerry Bridges, best-selling author of The Pursuit of Holiness

Use this book as a springboard to stimulate your own ideas on how you as a pastor or church leader can cultivate prayer in your church.
—Joel R. Beeke, President, Puritan Reformed Theological Seminary

Paul Tautges has done a tremendous service to both pastors and church members with this little gem of a book.
—Brian Croft, Senior Pastor, Auburndale Baptist Church, Louisville KY

An excellent resource for instructing and inspiring effectual prayer in the life of the local church. I highly recommend this book to be read and implemented into the prayer life of your church family. It will be transforming!
—Daniel P. Fredericks, Church and Pastoral Ministries Consultant, IFCA International
ShepherdPress.com exclusive: Buy the paperback, get the eBook free! Your purchase of the paperback automatically includes a link to download an eBook version as well (once the eBook is released).
Pray About Everything delivers an urgent call for believers to commit themselves to regular and systematic heartfelt prayer as an essential spiritual discipline for the Christian life.