Jerry Bridges on "Pray About Everything"
Last year, one of my heroes and spiritual mentors, Jerry Bridges, went home to Glory. There is no doubt in my mind he received the "Well done" commendation from our Savior. For this reason, it was a great honor when he agreed to write the Foreword to one of my books on prayer. Here's what he wrote: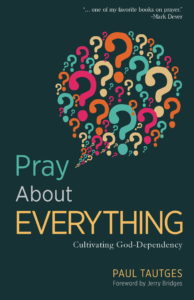 "Why another book on prayer? It seems a new book on prayer appears so often to take its place alongside other books that have been on our shelves for a long time. So why another one? I can think of three reasons.
First, we need to be continually reminded of the basic truths of Scripture, especially in this day when we all experience information overload. We forget so easily unless we are constantly reminded. It was for this reason that, even in the early days of the New Testament church, the Apostle Peter wrote in 2 Peter 1:12, "Therefore, I will always be ready to remind you of these things, even though you already know them, and have been established in the truth which is present with you." And this reminder is especially needed in the area of prayer. Second, prayer is hard work. Paul calls it "striving" (Rom. 15:30) and "laboring earnestly" (Col. 4:12). Even Bible study and, for the pastor or teacher, message preparation seems easier to do than to struggle in prayer. So we need continual encouragement to pray. Third, and this reason is unique to this book, Pray About Everything is directed primarily toward congregational prayer in the context of the local church. My observation is that most books on prayer tend to focus on our individual prayer lives, and even in that area we need to be reminded, instructed, and exhorted. But the whole idea of corporate prayer seems to be gradually disappearing, even among our Bible-centered evangelical churches.
We proliferate our programs while at the same time we marginalize congregational prayer. The old-fashioned Wednesday night prayer meeting has virtually disappeared. And though there is nothing sacred about Wednesday night as a prayer-meeting time, there certainly is something sacred about the corporate prayer of believers. This emphasis makes Paul Tautges' book a valuable contribution to our theology and practice of prayer.
Paul Tautges not only encourages us to pray corporately, but he also instructs us to pray biblically. Again, my observation is that much of the congregational prayer we do engage in is basically centered on our own health and financial needs. By contrast, Pastor Tautges directs us to the prayers of the Bible, which are basically God-centered. This is a book that will prove valuable to every member of a congregation. All of us need encouragement and instruction in the discipline of prayer, and this book will help us to that end."
Get your copy here.
*If the subject of prayer interests you then you may also want to check out my other book on reasons for unanswered prayer.