Most people don't read about suicide until they have to. Why would they? Yet you are reading this. It's safe to assume, therefore, that you have been personally affected by the self-inflicted death of someone you love. For that, I am deeply sorry. Losing someone through suicide is so painful that you may not want to talk about it. You may even find yourself changing the subject whenever it arises. Suicide sparks questions, doubts, and confusion.
After her mother took her own life, one grieving daughter observed, "Suicide doesn't end pain. It only lays it on the broken shoulders of the survivors."
Often we don't want to acknowledge the reality of suicide. We'd rather look the other way, since most people "don't know the signs of suicide, don't know what causes suicide, and don't see any real reason to learn."
We know suicide happens, but it happens to other people. We never expect otherwise competent people to look for an exit from life's troubles through the door of suicide.
We want to put our fingers in our ears, or cover our eyes, and hope that it will all just go away. But it won't. As one Texas police chaplain wrote, "as long as we, as a society, keep hiding the ugly, terrible truth, people will keep on killing themselves. It's happening now in greater numbers than ever, in ways that are horrific to behold, and for rationales that almost never stand up to the light of reason."
As a police and fire chaplain, I've walked through suicide aftershock with many grieving people. In another mini-book in this series, Help! My Friend Is Suicidal, I addressed suicide prevention and offered counsel on how to intervene. But what happens after suicide has become a reality? The focus must now turn to how to help family and friends who remain behind. Clearly, those who die by their own hand are not the only victims. Like ripples in a pond after a rock has been thrown in, the startling news of a suicide spreads. It swamps the boats of those who are closest, and even rocks the boats of those who are far removed. All of these people are often known as suicide survivors. But this term can be misleading. Suicide survivors are not people who have survived unsuccessful suicide attempts; they are the family members and close friends of someone who decided to end his or her own life. Consequently, in this mini-book I have chosen to use the term survivors of suicide loss.
Perhaps you find even this term difficult to accept. You may really wonder if you will survive the pain and loss. This doubt is described by Albert Hsu:
Because death has struck so close to home, life itself seems uncertain. We don't know if we can go on from day to day. We wonder if we will be consumed by the same despair that claimed our loved one. At the very least, we know that our life will never be the same. If we go on living, we will do so as people who see the world very differently.
Life has changed. You have changed. You can never go back. You'll never be the same. But you have choices about where to go from here. That's where I want to help. I want to walk alongside you on this difficult journey by showing you how healing is possible.
You are not alone. Along the way you'll meet some fellow travelers who, like you, are learning to proceed at their own pace. Most importantly, I want you to know that God is always there to help you and bring healing through his Word.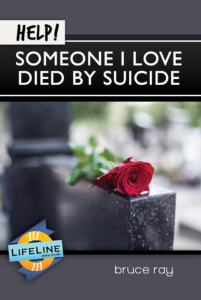 I will lift up my eyes to the mountains; from where shall my help come?
My help comes from the Lord, who made heaven and earth. (Psalm 121:1–2)
This is my comfort in my affliction, that Your word has revived me [or "preserved me alive"]. (Psalm 119:50)
Though I am writing directly to the one who is grieving, it's possible that you have not experienced this kind of loss yourself but are wanting to learn how to help a grieving friend. This mini-book is for you, too.
[This guest post is written by Bruce Ray, who has been a pastor for 50 years and has also served as a Police, Fire & EMS chaplain for 30 years. He is a frequent speaker on crisis and trauma. Bruce is a graduate of Los Angeles Baptist College (now The Master's University), the Reformed Episcopal Seminary, and Police & Fire Chaplains Training Academy. He is the author of HELP! Someone I Love Died by Suicide.] – This post was originally published September 11, 2019.