Help Your Child Appreciate Being Made in God's Image
God Made Me in His Image is a new hardcover children's book from Justin and Lindsey Holcomb and another discipleship tool for parents from New Growth Press. The subtitle, Helping Children Appreciate Their Bodies, adequately explains their goal.
Because bodies can be confusing and sometimes embarrassing to children, the Holcombs have placed a tool in the hands of parents to use to help their kids understand how God made their bodies in his image. Parents and caregivers can use this powerful book, illustrated by Trish Mahoney, to help children understand their feelings about their bodies and help them accept them by highlighting God's loving design of our individual physical characteristics.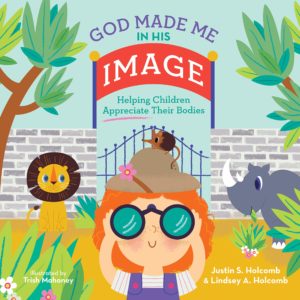 Young children will easily relate to the two main characters in the book, a boy and girl, both of whom dislike certain physical traits about themselves. As the book takes the kids on a field trip to the zoo, they learn to appreciate God's design of all creatures even when they don't necessarily understand the why behind it. God Made Me in His Image is a good conversation starter and reinforces the goodness of God's creative design described in the early chapters of Genesis.
I'll be purchasing copies for our grandchildren and will keep one at our house, too. Available from Westminster Books.